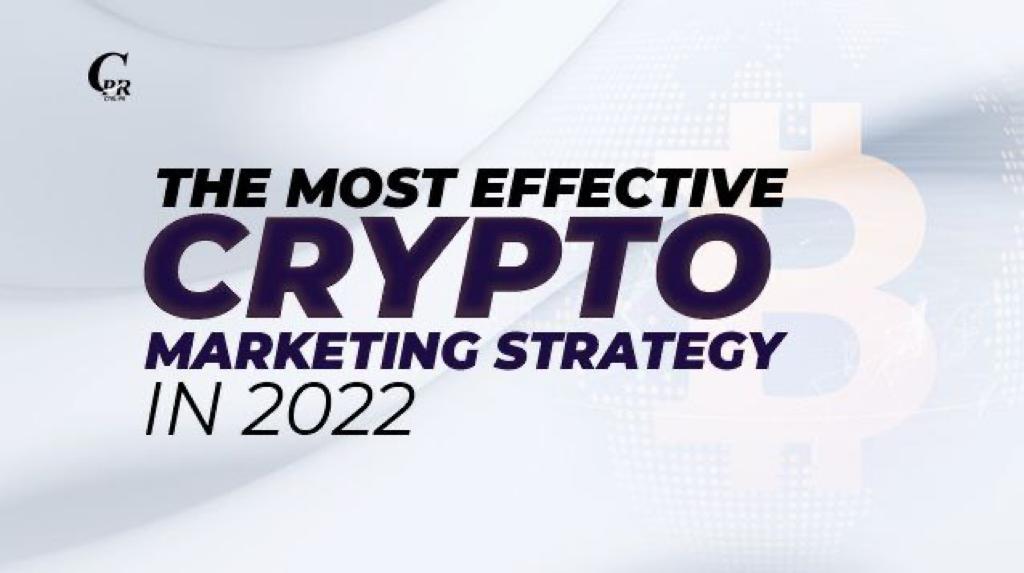 The blockchain is now the most talked-about technological advancement. Many businesses have shown an interest in taking part in it. But because there is so much competition, not all companies are ready for how hard it is to learn an effective crypto marketing strategy for their startups.
Every day, there are always new initiatives being developed. Hence, releasing a few advertisements into the market is not sufficient. One needs to have a well-thought-out plan to connect with and gain the trust of one's target audience.
Developing the perfect crypto marketing strategy is more vital than ever. The right way to do something will show you how to coordinate your actions with the goal you want to reach.
Interestingly, crypto public relations agencies are the most qualified firms to discuss these concerns. One of these is CTRL-PR. More than a hundred businesses have launched campaigns with success with us.
This guide will provide the resources you need to create an actionable strategy for your campaigns.
A Spy into the Marketing Strategies of Top Crypto Projects
All the most successful crypto projects in the world have in common that they are founded on a solid grasp of crypto marketing strategy. This is the common denominator. A significant number of them make use of first-offer methods. Let's take a closer look at a few of these different approaches, shall we?
Airdrop
Distributing free tokens to users as an airdrop is a popular marketing strategy that blockchain firms use to promote their cryptocurrencies. Airdrop allows you to communicate more effectively with your followers about your record label.
Initial offering on the DEX
IDO provides the cryptocurrency project with a tool that may be used to facilitate communication with the community. The projects releasing DEX will also get funding assistance from individual investors. IDOs can get potential investors interested in your cryptocurrency project and give people their first impression.
Top 5 Startup Crypto Marketing Hacks
You need an efficient crypto marketing strategy if you want people to know about your cryptocurrency enterprise in the blockchain realm. With a solid strategy, you will be able to reach your target audience in a short amount of time and accomplish the objectives you set for the sales campaign.
Notably, achieving one's desired results with a campaign that does not have a well-defined aim or purpose is impossible. The following are some tried and true tactics that can help your company's brand recognition soar to new heights:
Learn As Much As You Can About Your Rivals
Researching your competition might help you determine the kinds of client concerns that you should address in your business. It also makes it easier to find holes in the market and develop plans to fill them with products that would make customers want to buy.
Your rivals have valuable insight regarding what you should do well and avoid doing. When you have a solid understanding of your rival, you will be better able to place yourself in the appropriate position and have a better notion of the tactics you will need to use to succeed.
It would be best if you began by going to their website and, as a matter of course, reading their blog articles. These will give you an understanding of their situations at the moment. Paying attention to the keywords that they utilize is also a crucial thing that can be done.
Identify Who You Want To Buy From Your Brand
Marketing is something that any firm must do. It is essential that you promote your brand to the appropriate consumers for your campaign to be a success. Using the right strategy will bring much attention to your company without any effort.
You will waste your time and money if you can't find customers who have a problem that needs to be fixed and who need your services to do so.
It may seem like common sense, but you'd be astonished at the number of excellent projects that are unsuccessful simply because they were sold to the incorrect demographic.
Constantly direct the content of your website and your advertisements to appeal to your target consumer.
PR companies are brought in because they have ties to the clients and investors that blockchain startup businesses desperately need at arm's length.
Determine the Objectives of Your Marketing Campaign
The findings of a study conducted by finder.com indicate that 44.3 percent of cryptocurrency enthusiasts are members of the millennial generation, 17.8 percent are members of the Generation Z generation, 28.6 percent are members of the Generation X generation, and 8.2 percent are members of the Baby Boomer generation. Because not everyone is interested in this niche, it might be challenging to determine whom your initiative is intended for.
The objectives of your company and those of your marketing must align. The aim of your campaign should be tailored to the specific type of audience, type of PR agency to hire, etc.
Distribute a Press Release on Many of the Most Reputable Websites
After determining the appropriate marketing objectives and identifying the target audience, you should concentrate on selecting the most effective methods for promoting your crypto enterprise. The following is a list of some helpful websites that you may use to advertise your cryptocurrency projects:
You can get your project press release featured on CoinTelegraph, Yahoo Finance, Yahoo News, Bloomberg, Nasdaq, Benzinga, Market Watch, and other websites of a similar nature.
Ensure the Effectiveness of Your Crypto Marketing Strategy
Podcasting
Podcasting makes it possible to educate many people about various concepts and services simultaneously. Producing a podcast is a simple process that requires nothing in the way of specialized tools. It is a quick and easy way to display your brand impressively.
Symposiums and Conferences
This provides a meeting place for individuals with similar interests from all over the globe. Blockchain engineers have the opportunity to make new connections at these events. Even if you don't have the technical knowledge needed to host a meet-up for top-tier blockchain engineers, you can still host the event for students and clients.
Action Point
Although the techniques on the list seem simple, it might be challenging for crypto marketers to put them into practice. The most significant challenge is ensuring that the tactics will continue to be effective. Utilizing a crypto marketing strategy constantly is the only way to achieve success with such a strategy. There is much more to marketing than simply coming up with a clever slogan and a brand name for your company. If you are a marketer, you may hire us at CTRL-PR to assist you in growing your crypto brand and spreading the word about it all over the globe. We will always work until your brand name becomes well-known in the crypto community.